About Us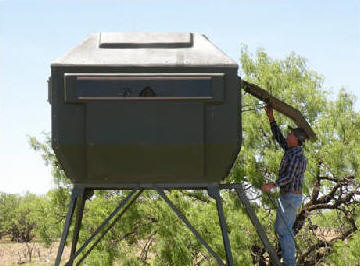 G & G Fiberglass designs and manufactures fiberglass products right here in the USA! Not only are we the makers of the world-famous Pot-Belly Deer Blind, we also manufacture other fiberglass products for the oilfield and ranching industries.
The owners of G & G Fiberglass have hunted all of their lives. After many years of squeezing into tight, cold and uncomfortable deer blinds with limited viewing area, they designed the Pot-Belly Blind with "more room in the middle." These larger, warmer and better made blinds have revolutionized the hunting blind industry. Click here to see more information on the Pot-Belly Blind.
G & G Fiberglass also manufactures all types of tanks and troughs for the oilfield and agriculture sectors. Our 12 ft. fiberglass rectangular water trough has become a must-have for ranchers in West Texas, and our customizable tanks of all sizes have become standard at oilfield locations all over. Click here to see our wide range of oilfield products.
You won't find the owners of G & G Fiberglass sitting in their offices either. Doug Garvin and Richard Gibson are in the shop: welding, assembling and perfecting their designs for their customers. Our customer service is friendly and helpful, and we stand behind our products! Give us a call for all of your fiberglass needs!